Kineziterapija pagerina COVID-19 liga persirgusių asmenų kvėpavimo funkcijas, pusiausvyrą ir fizinį pajėgumą
Laura Žlibinaitė

Kauno kolegija

Ugnė Tolkevičiūtė

Kauno kolegija

Diana Nemčiauskienė

Kauno kolegija

Milda Gintilienė

Kauno kolegija

Ligita Šilinė

Kauno kolegija
Keywords:
COVID-19, fiziniai pratimai, spirometrija, pusiausvyra
Abstract
Koronaviruso infekcija arba COVID-19 (angl. coronavirus disease 2019) yra liga, kurią sukelia koronavirusas SARS-CoV-2. Nors dauguma pacientų, sergančių COVID-19 liga, suserga lengva ar vidutine forma, maždaug 14 proc. serga sunkia ligos forma, dėl kurios juos reikia hospitalizuoti ir papildomai aprūpinti deguonimi, o 5 proc. – gydomi intensyviosios terapijos skyriuje. Persirgus COVID-19 ir išlikus sutrikusioms biosocialinėms funkcijoms, pacientui skiriamos reabilitacijos paslaugos, tačiau pasigendama mokslinių tyrimų, kuriuose būtų atskleistas kineziterapijos poveikis asmens kvėpavimo sistemos funkcijoms, funkcinei būklei bei pusiausvyrai. Šio tyrimo tikslas buvo nustatyti kineziterapijos poveikį COVID-19 liga persirgusių asmenų kvėpavimo funkcijoms, pusiausvyrai bei fiziniam pajėgumui. Tyrime dalyvavo 15 COVID-19 ligos vidutine forma persirgusių asmenų (56,00 ± 4,61 metų), stacionarizuotų ne seniau nei 30 dienų iki tyrimo. Tyrimą sudarė viena tiriamųjų grupė, kuriai buvo taikomi kineziterapijos užsiėmimai 4 savaites, 5 kartus per savaitę, vieno užsiėmimo trukmė – 30 minučių. Tiriamieji buvo testuojami du kartus – prieš tyrimą ir po 4 savaičių. Vertinimo metodai buvo: spirometrija (forsuota gyvybinė plaučių talpa ir forsuoto iškvėpimo tūris per pirmąją sekundę), krūtinės ląstos apimties matavimas, pusiausvyros vertinimas Berg skale bei fizinio pajėgumo vertinimas 6 minučių ėjimo testu. Po kineziterapijos užsiėmimų padidėjo forsuota gyvybinė plaučių talpa (p<0,05) ir forsuoto iškvėpimo tūris per pirmąją sekundę (p<0,05), pagerėjo Berg testo rezultatai (p<0,05), o vertinant fizinį pajėgumą tiriamieji nuėjo ilgesnį atstumą (p<0,05). Išvada: keturių savaičių trukmės kineziterapija, įtraukiant kvėpavimo ir pusiausvyros pratimus, gali būti taikoma kaip veiksminga reabilitacijos priemonė asmenims, persirgusiems COVID-19 liga.
Downloads
Download data is not yet available.
References
De Biase, S., Cook, L., Skelton, D. A., Witham, M., & Ten Hove, R. (2020). The COVID-19 Rehabilitation Pandemic. Age and Ageing, 49(5), 696–700.
Dun, Y., Liu, C., Ripley-Gonzalez, J. W., Liu, P., Zhou, N., Gong, X., ... & Liu, S. (2021). Six-month Outcomes and Effect of Pulmonary Rehabilitation among Patients Hospitalized with COVID-19: a Retrospective Cohort Study. Annals of Medicine, 53(1), 2099–2109.
Ferraro, F., Calafiore, D., Dambruoso, F., Guidarini, S., & de Sire, A. (2020). COVID-19 related fatigue: Which Role for Rehabilitation in Post-COVID-19 Patients? A Case Series. Journal of Medical Virology.
Gervasoni, F., LoMauro, A., Ricci, V., Salce, G., Andreoli, A., Visconti, A., & Pantoni, L. (2022). Balance and Visual Reliance in Post-COVID Syndrome Patients Assessed with a Robotic System: a Multi-sensory Integration Deficit. Neurological Sciences, 43(1), 85–88.
Grigoletto, I., Cavalheri, V., de Lima, F. F., & Ramos, E. M. C. (2020). Recovery after COVID-19: The Potential Role of Pulmonary Rehabilitation. Brazilian Journal of Physical Therapy, 24(6), 463.
Kokatnur, L., & Rudrappa, M. (2018). Diaphragmatic Palsy. Diseases, 6(1), 16.
Lima, C. A., Ricci, N. A., Nogueira, E. C., & Perracini, M. R. (2018). The Berg Balance Scale as a Clinical Screening Tool to Predict Fall Risk in Older Adults: a Systematic Review. Physiotherapy, 104(4), 383–394.
Mohamed, A. A., & Alawna, M. (2021). The Effect of Aerobic Exercise on Immune Biomarkers and Symptoms Severity and Progression in Patients with COVID-19: A Randomized Control Trial. Journal of Bodywork and Movement Therapies, 28, 425–432.
Ogunlana, M. O., Oyewole, O. O., Lateef, A. I., & Ayodeji, A. F. (2021). Anthropometric Determinants of Lung Function in Apparently Healthy Individuals. The South African Journal of Physiotherapy, 77(1), 1509.
Righetti, R. F., Onoue, M. A., Politi, F. V. A., Teixeira, D. T., Souza, P. N. D., Kondo, C. S., ... & Yamaguti, W. P. (2020). Physiotherapy Care of Patients with Coronavirus Disease 2019 (COVID-19)-a Brazilian Experience. Clinics, 75.
Rodriguez-Morales, A. J., Cardona-Ospina, J. A., Gutiérrez-Ocampo, E., Villamizar-Peña, R., Holguin-Rivera, Y., Escalera-Antezana, J. P., ... & Sah, R. (2020). Clinical, Laboratory and Imaging Features of COVID-19: a Systematic Review and Meta-analysis. Travel Medicine and Infectious Disease, 34, 101623.
Sheehy, L. M. (2020). Considerations for Postacute Rehabilitation for Survivors of COVID-19. JMIR Public Health and Surveillance, 6(2), e19462.
Sun, P., Lu, X., Xu, C., Sun, W., & Pan, B. (2020). Understanding of COVID‐19 Based on Current Evidence. Journal of Medical Virology, 92(6), 548–551.
Thomas, P., Baldwin, C., Bissett, B., Boden, I., Gosselink, R., Granger, C. L., ... & van der Lee, L. (2020). Physiotherapy Management for COVID-19 in the Acute Hospital Setting: Recommendations to Guide Clinical Practice. Pneumon, 33(1), 32–35.
Viola, P., Ralli, M., Pisani, D., Malanga, D., Sculco, D., Messina, L., ... & Chiarella, G. (2021). Tinnitus and Equilibrium Disorders in COVID-19 Patients: Preliminary Results. European Archives of Oto-Rhino-Laryngology, 278(10), 3725–3730.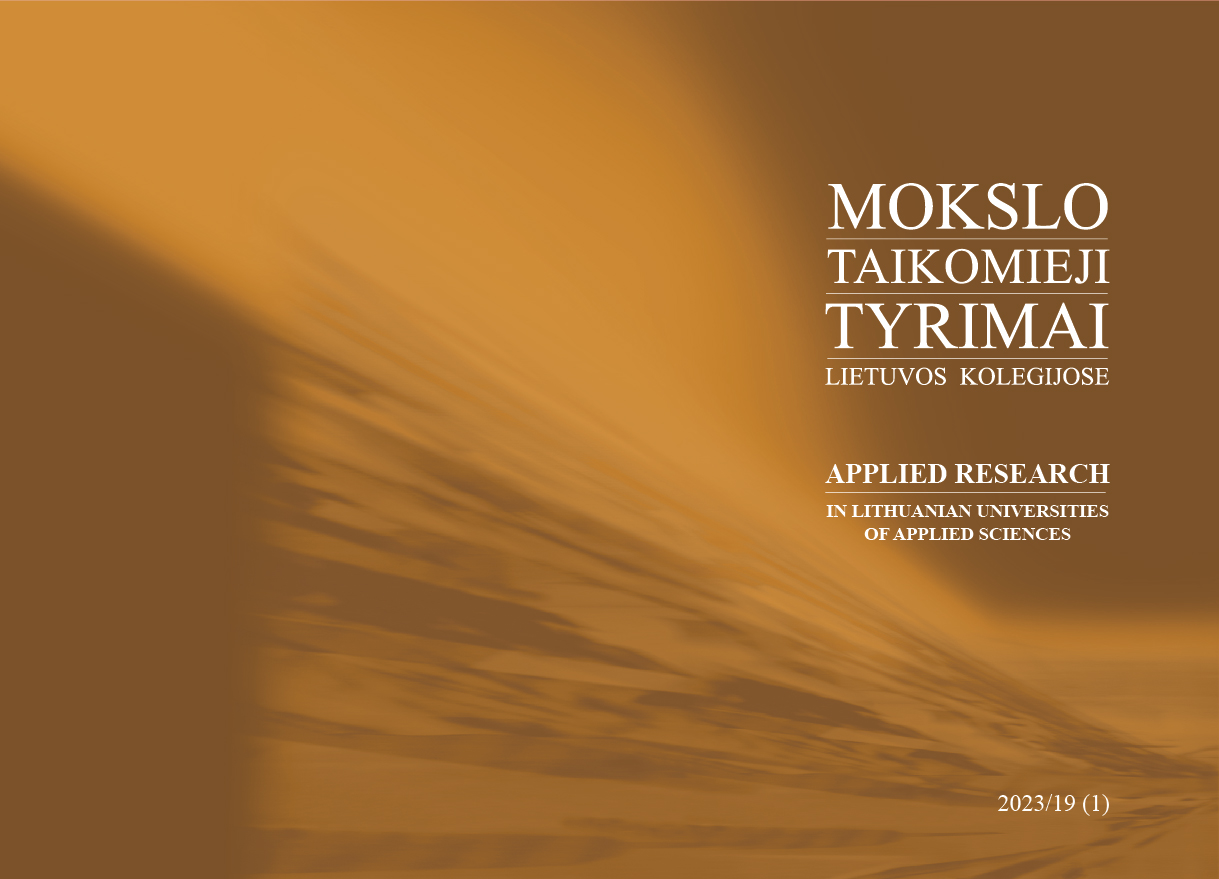 How to Cite
Žlibinaitė, L., Tolkevičiūtė, U., Nemčiauskienė, D., Gintilienė, M., & Šilinė, L. (2023). Kineziterapija pagerina COVID-19 liga persirgusių asmenų kvėpavimo funkcijas, pusiausvyrą ir fizinį pajėgumą. Mokslo Taikomieji Tyrimai Lietuvos Kolegijose, 1(19), 43-48. https://doi.org/10.59476/mtt.v1i19.582
Section
Medicinos ir sveikatos mokslų tyrimai
Copyright (c) 2023 MOKSLO TAIKOMIEJI TYRIMAI LIETUVOS KOLEGIJOSE
This work is licensed under a Creative Commons Attribution 4.0 International License.