Juodųjų serbentų, aviečių, aronijų, obuolių ir rabarbarų vyno distiliatų šalutinių fermentacijos produktų, turinčių įtakos gėrimų saugai ir kokybei, tyrimai
Aušra Šimonėlienė

Kauno kolegija
Keywords:
distiliatas, spiritas, vaisių uogų vynas, lakieji junginiai, metanolis, esteriai, aldehidai, aukštesnieji alkoholiai
Abstract
Vaisiai ir uogos – nuo seno naudojama puiki žaliava įvairių gaiviųjų gėrimų, sulčių, vyno gamyboje. Pasaulyje vis dažniau analizuojamas vaisių bei uogų potencialas, galimas jų panaudojimas distiliatų, spiritinių gėrimų gamyboje. Vaisių spirito apibrėžimas ir reikalavimai pateikti Reglamente (EB) Nr. 110/2008).  Spiritai – tai alkoholiniai gėrimai, kurių žaliava yra naudojami vaisiai ar kitos cukraus turinčios augalų dalys. Jie gaminami alkoholinės fermentacijos būdu, o vėliau distiliuojami. Vaisių uogų distiliatas yra ne tik vandens ir etanolio mišinys. Jis sudarytas iš daugelio aromatinių komponentų, susidarančių fermentacijos proceso metu ir nulemiančio gėrimo juslines savybes: skonį bei aromatą. Atlikto tyrimo tikslas – išanalizuoti šalutinių medžiagų kiekį distiliatuose susidarantį vyno fermentacijos metu naudojant skirtingą augalinę žaliavą. Svarbu paminėti, kad alkoholinės fermentacijos procesas ne vien tik anaerobinis procesas, kurio metu mielės anaerobinės fermentacijos metu išsiskiriant šilumai skaido cukrus iki etanolio ir CO2. Fermentacijos metu susidaro daug šalutinių produktų, kurie nulemia vyno, o vėliau ir distiliatų sudėtį bei juslinius rodiklius. Tyrimui buvo naudoti Lietuvoje plačiai auginami juodieji serbentai, aronijos, rabarbarai, obuoliai ir avietės. Nustatyta, kad metanolio koncentracija visuose mėginiuose buvo mažesnė už ES teisės aktų nustatytą ribą. Taip pat nustatyta, kad priemaišų, t. y. aukštesniųjų alkoholių, aldehidų ir esterių kiekis distiliatuose skiriasi priklausomai nuo fermentacijai naudotų žaliavų. Didžiausias esterių kiekis išreikštas etilacetatu, g/ hl a.a. nustatytas obuolių ir aronijos distiliate (atitinkamai 69,53±14,60; 63,73±13,38); mažiausiais kiekis – juodųjų serbentų vyno distiliate. Daugiausia aldehidų išreikštų acetaldehidu, g/hl a.a aptikta rabarbarų vyno distiliate 1017,59±3,24, mažiausias kiekis nustatytas juodųjų serbentų vyno distiliate 50,37±9,57. Aukštesniųjų alkoholių išreiškiamų 2-metilpropanoliu, g/hl a.a daugiausia buvo aptikta aronijos uogų vyno distiliate 117,82±9,43, o mažiausias juodųjų serbentų vyno distiliate 32,44±2,59. Kaip parodė tyrimas, identiškomis sąlygomis fermentuotos skirtingos žaliavos (skirtingų vaisių bei uogų) distiliatų sudėtis skyrėsi. Straipsnyje pateikiami atlikto tyrimo rezultatai ir analizuojamas gautų rezultatų priežastinis ryšys.
Downloads
Download data is not yet available.
References
Belackova, V., Janikova, B., Vacek, J., Fidesova, H., & Miovsky, M. (2017). "It can't Happen to Me" Alcohol Drinkers on the 2012 Outbreak of Methanol Poisonings and the Subsequent Prohibition in the Czech Republic. Nordic Studies on Alcohol and Drugs, 34(5), 385–399.
Botelho, G., Anjos, O., Estevinho, L. M., & Caldeira, I. (2020). Methanol in Grape Derived, Fruit and Honey Spirits: A Critical Review on Source, Quality Control, and Legal Limits. Processes, 8(12), 1609.
García-Llobodanin, L., Ferrando, M., Güell, C., & López, F. (2008). Pear Distillates: Influence of the Raw Material Used on Final Quality. European Food Research and Technology, 228, 75–82.
González, E. A., Fernández, I. O., Castro, L. P., & Guerra, N. P. (2016). Production and Characterization of a Novel Distilled Alcoholic Beverage Produced from Blueberry (Vaccinium corymbosum L.). Fruits, 71(4), 215–220.
Han, Y., & Du, J. (2022). Relationship of the Methanol Production, Pectin and Pectinase Activity during Apple Wine Fermentation and Aging. Food Research International, 159, 111645.
Han, Y., Wang, Y., Li, J., Du, J., & Su, Z. (2022). Evaluating the Effect of Bentonite, Malic Acid on Pectin Methyl Esterase, Methanol in Fermented Apple Juice. Journal of Food Composition and Analysis, 109, 104468.
Huang, M., Liu, X., Li, X., Sheng, X., Li, T., Tang, W., ... & Wang, Y. (2022). Effect of Hanseniaspora Uvarum–Saccharomyces Cerevisiae Mixed Fermentation on Aroma Characteristics of Rosa Roxburghii Tratt, Blueberry, and Plum Wines. Molecules, 27(22), 8097.
Kelanne, N. M., Siegmund, B., Metz, T., Yang, B., & Laaksonen, O. (2022). Comparison of Volatile Compounds and Sensory Profiles of Alcoholic Black Currant (Ribes nigrum) Beverages Produced with Saccharomyces, Torulaspora, and Metschnikowia Yeasts. Food Chemistry, 370, 131049.
López, F., Rodríguez-Bencomo, J. J., Orriols, I., & Pérez-Correa, J. R. (2017). Fruit Brandies. In Science and Technology of Fruit Wine Production (pp. 531–556). Academic Press.
Mrvčić, J., Trontel, A., Hanousek Čiča, K., Vahčić, N., Nikićević, N., Spaho, N., ... & Stanzer, D. (2021). Chemical and Sensorial Characteristics of Traditional Fruit Spirits from Southeast Europe. Glasnik zaštite bilja, 44(6), 80–89.
Lambrechts, M. G., & Pretorius, I. S. (2000). Yeast and its Importance to Wine Aroma-a Review. South African Journal of Enology and Viticulture, 21(1), 97–129.
Lietuvos Respublikos žemės ūkio ministro 2001 m. gegužės 25 d. įsakymas Nr. 171 "Dėl vaisių ir (ar) uogų vyno, vaisių ir (ar) uogų gėrimų ir kokteilių apibūdinimo, gamybos ir prekinio pateikimo techninio reglamento patvirtinimo". Suvestinė redakcija nuo 2020-12-01.
Lv, J., Han, X., Bai, L., Xu, D., Ding, S., Ge, Y., ... & Li, J. (2020). Effects of Calcium Chloride Treatment on Softening in Red Raspberry Fruit during Low‐temperature Storage. Journal of Food Biochemistry, 44(10), e13419.
López, F., Rodríguez-Bencomo, J. J., Orriols, I., & Pérez-Correa, J. R. (2017). Fruit Brandies. In Science and Technology of Fruit Wine Production (pp. 531–556). Academic Press.
Ohimain, E. I. (2016). Methanol Contamination in Traditionally Fermented Alcoholic Beverages: the Microbial Dimension. Springerplus, 5(1), 1607.
Spaho, N. (2017). Distillation Techniques in the Fruit Spirits Production. Distillation-Innovative Applications and Modeling, 129–152.
Pham, M. T. (2022). Production and Quality Analysis of Some Spirits from Fruits (Doctoral dissertation, Magyar Agrár-és Élettudományi Egyetem).
Riaz, M. N., & Bushway, A. A. (1996). Compositional Analysis of Four Red Raspberry Cultivars Grown in Maine. Journal of Food Quality, 19(6), 457-465.
Spaho, N. (2017). Distillation Techniques in the Fruit Spirits Production. Distillation-Innovative Applications and Modeling, 129–152.
Stoica, F., Muntean, C., Giugea, N., Mărăcineanu, L., & Ionete, R. (2020). Volatile Compounds in Different Fractions of Fruits Distillate Obtained by Traditional Distillation. Scientific Bulletin. Series F. Biotechnologies, 24(2), 17–24.
Trenka, M., Nawirska-Olszańska, A., & Oziembłowski, M. (2020). Analysis of Selected Properties of Fruits of Black Chokeberry (Aronia melanocarpa L.) from Organic and Conventional Cultivation. Applied Sciences, 10(24), 9096.
Vashakidze, P., & Bezhuashvili, M. (2020). Higher Alcohols of Wine-transformation Regulation of Intermediate Products in Alcoholic Fermentation. International Journal of Agriculture Innovations and Research, 8(5), 455–461.
Vulić, T., Nikićević, N., Stanković, L., Veličković, M., Todosijević, M., Popović, B., ... & Tešević, V. V. (2012). Chemical and Sensorial Characteristics of Fruit Spirits Produced from Different Black Currant (Ribes nigrum l.) and Red Currant (Ribes rubrum l.) cultivars. Macedonian Journal of Chemistry and Chemical Engineering, 31(2), 217–227.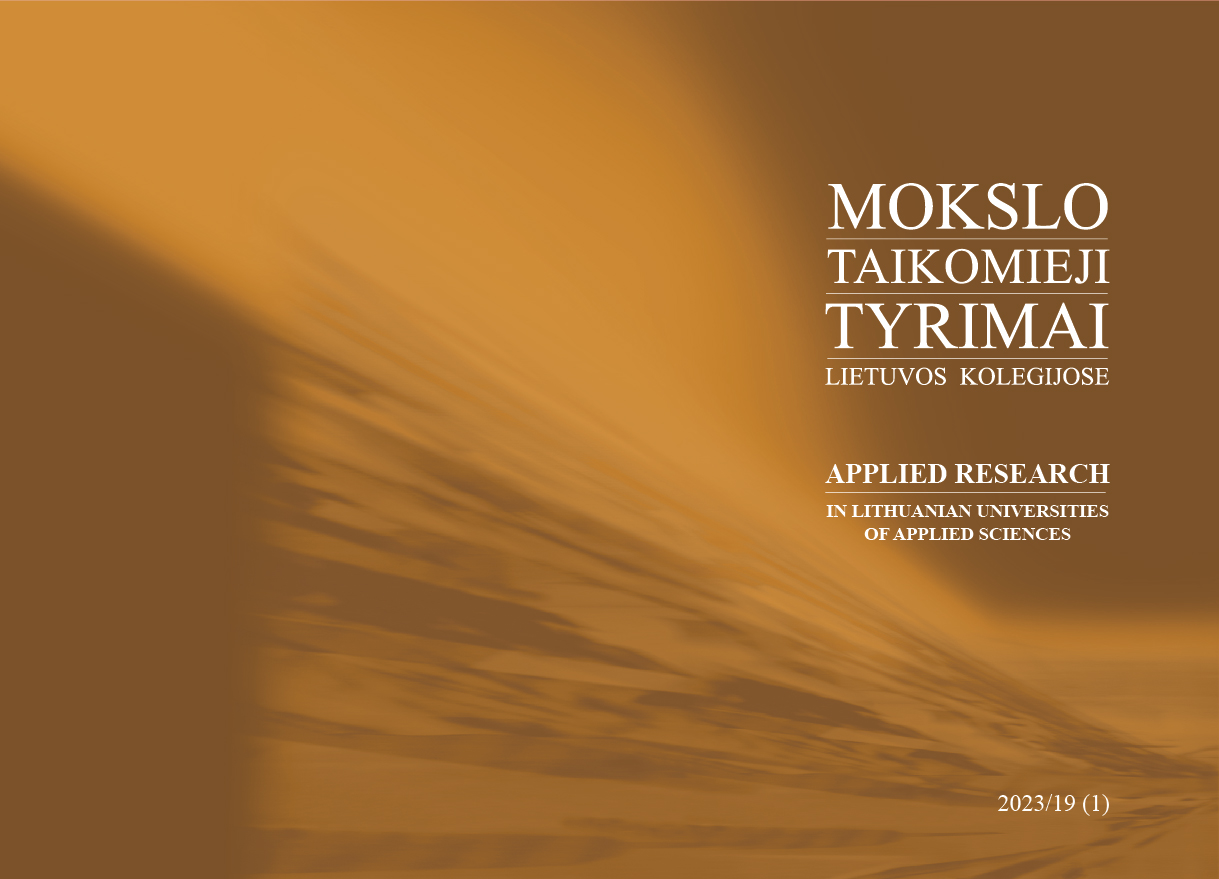 How to Cite
Šimonėlienė, A. (2023). Juodųjų serbentų, aviečių, aronijų, obuolių ir rabarbarų vyno distiliatų šalutinių fermentacijos produktų, turinčių įtakos gėrimų saugai ir kokybei, tyrimai. Mokslo Taikomieji Tyrimai Lietuvos Kolegijose, 1(19), 246-252. https://doi.org/10.59476/mtt.v1i19.593
Section
Technologijos mokslų tyrimai
Copyright (c) 2023 MOKSLO TAIKOMIEJI TYRIMAI LIETUVOS KOLEGIJOSE
This work is licensed under a Creative Commons Attribution 4.0 International License.