Suaugusių žmonių dantų gydymo baimės ir burnos ligų profilaktikos sąsajos
Rita Juchnevičienė

Kauno kolegija

Eglė Zdanavičienė

Kauno kolegija

Daiva Mačiulienė

Kauno kolegija

Asta Motūzienė

Kauno kolegija
Keywords:
dantų gydymo baimė, dantų gydymo baimės įtaka burnos ligų profilaktikai
Abstract
Remiantis pasauline sveikatos organizacija (2020), burnos ertmės sveikata yra pagrindinis gerovės, gyvenimo kokybės ir sveikatos rodiklis, apimantis daugybę ligų ir būklių, įskaitant dantų ėduonį, periodonto ligas, dantų netekimą, burnos vėžį, ŽIV infekcijos pasireiškimus burnoje, burnos ir dantų traumas, normas ir apsigimimus, tokius kaip kiškio lūpa ar vilko gomurys. 2017 m. tyrimai parodė, kad burnos ligomis serga 3,5 mlrd. žmonių visame pasaulyje. Burnos ertmės sveikatos būklė dažnai yra susijusi su dantų gydymo baime. Žmonėms, kurie dėl dantų gydymo baimės atidėlioja vizitus pas odontologą, pasireiškia labiau simptomatinės ir sunkesnės burnos ertmės ligos, tai prisideda prie esamos dantų gydymo baimės paūmėjimo. Siekiant išsaugoti burnos ertmės sveikatą labai svarbi burnos ligų profilaktika. Šiame kiekybiniame tyrime, naudojant internetinės apklausos metodą, buvo siekiama nustatyti suaugusių žmonių dantų gydymo baimės ir burnos ligų profilaktikos sąsajas. Klausimynas parengtas tyrimo autorių. Tyrimo metu taikyti aprašomosios statistikos duomenų analizės metodai. Rezultatai parodė, kad dantų gydymo baimė yra plačiai paplitusi problema, kurios atsiradimui daugiausiai įtakos turi skausmingo gydymo patirtis praeityje. Dažniausiai odontologinių procedūrų metu žmonės bijo skausmo, būti nesuprasti dėl prastos burnos ertmės būklės, karieso gydymo ir nuskausminimo. Dantų gydymo baimę patiriančių žmonių nereguliarūs apsilankymai pas burnos priežiūros specialistą veda į burnos ertmės pablogėjimo būklę.
Downloads
Download data is not yet available.
References
S. (2017)Dental Caries: A microbiological approach. J. Clin. Infect. Dis. Pract. ;2:1–5. [Žiūrėta 2022-01-08]. Prieiga per internetą: 10.4172/2476-213X.1000118.
Yadav K., Prakash S. (2017)Dental Caries: A microbiological approach. J. Clin. Infect. Dis. Pract. ;2:1–5. [Žiūrėta 2022-01-08]. Prieiga per internetą: 10.4172/2476-213X.1000118.
Appukuttan, D., P. (2016). Strategies to Manage Patients with Dental Anxiety and Dental Phobia: Literature Review. Clinical, Cosmetic and Investigational Dentistry, 8, 35–50.
Armfield, J., Heaton, L. (2013). Management of Fear and Anxiety in the Dental Clinic: a Review. Aust Dent J, 58: 39–407.
Armfield, J., M., Stewart J., F., Spencer, A., J. (2007). The Vicious Cycle of Dental Fear: Exploring the Interplay between Oral Health, Service Utilization and Dental Fear. BMC Oral Health, 7(1):1–15.
Cheng, L. (2022). Management of Fear and Anxiety in Dental Treatments: a Systematic Review and Meta-Analysis of Randomized Controlled Trials. Odontology, 1–13.
Chia-Shu, L., et al. (2021). Magnification of Fear and Intention of Avoidance in Non-Experienced Versus Experienced Dental Treatment in Adults. BMC Oral Health, 21.1: 1–328.
de Buhr, E., Tannen, A. (2020). Parental Health Literacy and Health Knowledge, Behaviours and Outcomes in Children: a Cross-sectional Survey. BMC Public Health, 20(1), 1–9.
de Donno, M., A. (2012) Dental Anxiety, Dental Visits and Oral Hygiene Practices. Oral Health & Preventive Dentistry, 10(2), 129.
Enright, A., Enright, S. (2021). Dental Anxiety and Phobia – Causes, Impacts, and Treatment. Meikai University Japan.
Goettems, M., L., Shqair, A., Q., Bergmann, V., F., Cadermatori, M., G., Correa, M., B., Demarco, F. F. (2018). Oral Health Self‐perception, Dental Caries and Pain: the Role of Dental Fear Underlying this Association. International Journal of Paediatric Dentistry, 28(3), 319–325.
Hakeberg, M., Cunha, l. (2008) Dental Anxiety and Pain Related to Dental Hygienist Treatment, Acta Odontologica Scandinavica, 66:6, 374–379.
Yeungyeung, L., et al. (2022). Evaluation of the Relationship Among Dental Fear, Scaling and Root Planing and Periodontal Status Using Periodontitis Stages: A Retrospective Study. Journal of dental sciences 17.1: 293–299.
Judah, G., Gardner, B., Aunger, R. (2013). Forming a flossing habit: an exploratory study of the psychological determinants of habit formation. British journal of health psychology, 18(2), 338–353.
Kanaffa-Kilijanska, U., Kaczmarek, U., Kilijansk,a B., Frydecka, D. (2014). Oral health condition and hygiene habits among adult patients with respect to their level of dental anxiety. Oral Health Prev Dent.;12(3):233–9.
Mohammed, R., B., Lalithamma, T., Varma, D. M., Sudhakar, K. N., Srinivas, B., Krishnamraju, P., V., Shaik, A., B. (2014). Prevalence of Dental Anxiety and its Relation to Age and Gender in Coastal Andhra (Visakhapatnam) Population, India. Journal of Natural Science, Biology and Medicine, 5(2), 409–414.
Moore, R., Brødsgaard, I., B, H. (1991) Manifestations, Acquisition and Diagnostic Categories of Dental Fear in a Self-referred Population. Behaviour Research and Therapy, 51–60.
Oosterink, F., M., De Jongh, A., Aartman, I., H. (2008). What are People Afraid of during Dental Treatment? Anxiety‐provoking Capacity of 67 Stimuli Characteristic of the Dental Setting. European Journal of Oral Sciences, 116(1), 44–51.
Pacauskienė, I., M,, Smailienė D., Siudikienė, J., Savanevskytė, J., Nedzelskienė, I. (2014). Self-Reported Oral Health Behavior and Attitudes of Dental and Technology Students in Lithuania. Stomatologija, Baltic Dental and Maxillofacial Journal, 16:65–71.
Paipalienė, P., Vaitkevičienė, I., Basevičienė, N., Avižonienė, O., Oniūnaitė, I. (2009). Apydančio ligų priežastys: mokomoji knyga. Kaunas: KMU leidykla.
Pohjola, V., Rekola, A., Kunttu, K., Virtanen, J. I. (2016). Association Between Dental Fear and Oral Health Habits and Treatment Need among University Students in Finland: a National Study. BMC oral health, 16(1), 1–9.
Svensson, L., Hakeberg, M., Wide, U. (2018). Dental Pain and Oral Health-related Quality of Life in Individuals with Severe Dental Anxiety. Acta Odontologica Scandinavica, 76(6), 401–406.
Taylor, S. (2014). Anxiety Sensitivity: Theory, Research, and Treatment of the Fear of Anxiety. 1 ed. Routledge, 384.
Vasiliauskas, K., Klasavičiūtė, K., Vasiliauskienė, I., Andruškevičienė, V., Saldūnaitė, K., Slabšinskienė E., (2018). Suaugusių žmonių dantų gydymo baimę lemiantys indikatoriai, 69–73.
Weiner, A., A. (2011). The Fearful Dental Patient. A Guide to Understanding and Management. Oxford, England, UK: Blackwell Publishing.
Zinke, A., Hannig, C., Berth, H. (2018). Comparing Oral Health in Patients with Different Levels of Dental Anxiety. Head Face Med 14, 25.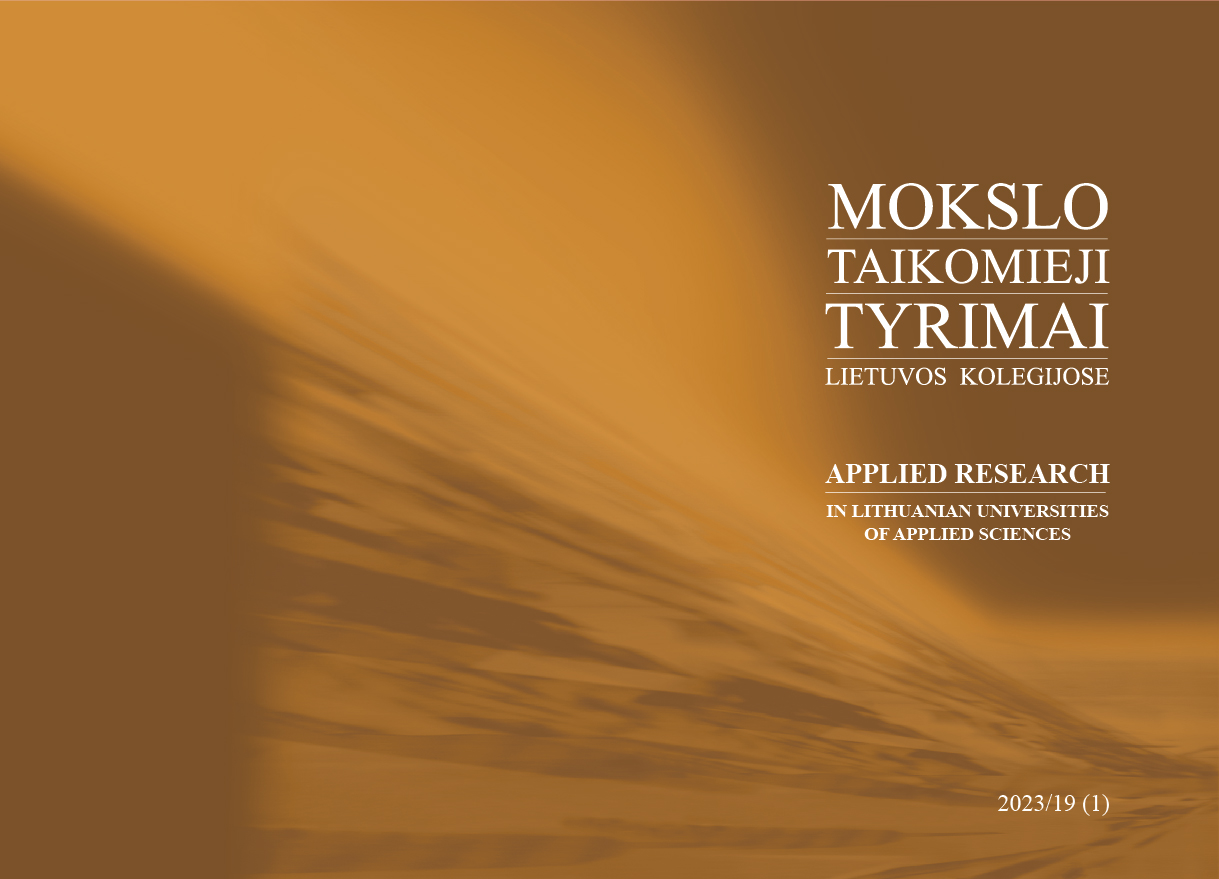 How to Cite
Juchnevičienė, R., Zdanavičienė, E., Mačiulienė, D., & Motūzienė, A. (2023). Suaugusių žmonių dantų gydymo baimės ir burnos ligų profilaktikos sąsajos. Mokslo Taikomieji Tyrimai Lietuvos Kolegijose, 1(19), 27-34. https://doi.org/10.59476/mtt.v1i19.581
Section
Medicinos ir sveikatos mokslų tyrimai
Copyright (c) 2023 MOKSLO TAIKOMIEJI TYRIMAI LIETUVOS KOLEGIJOSE
This work is licensed under a Creative Commons Attribution 4.0 International License.