Burnos priežiūros specialistų komandinis darbas
Evelina Daugėlienė

Klaipėdos valstybinė kolegija

Domantė Beinorytė

Klaipėdos valstybinė kolegija
Keywords:
burnos priežiūros specialistai, komandinis darbas, burnos higienistai, komanda
Abstract
Straipsnyje siekiama atskleisti burnos higienistų ir gydytojų odontologų požiūrį į komandinį darbą. Apie komandinį darbą sveikatos priežiūros srityje šiomis dienomis yra kalbama nemažai, siekiama, kad komandiniu darbu būtų paremtas visas burnos priežiūros specialistų darbas. Šiuolaikiniame pasaulyje komandinis darbas yra vienas iš svarbiausių organizacijos sėkmę lemiančių veiksnių. Vis labiau vystantis sveikatos priežiūros sistemai ji tampa biosocialine, į paciento priežiūrą įtraukiama vis daugiau įvairių sričių specialistų. Labai svarbus šio progreso žingsnis – didėjantis poreikis pereiti prie komandinio darbo metodo. Komandoje dažniausiai pasidalijama vaidmenimis, kurių kiekvienas yra vienodai svarbus ir reikšmingas. Dažniausiai vieno komandos nario darbo rezultatai yra susiję su kito kolegos padarytu darbu, todėl tokiu būdu kolegos skatina vienas kitą atlikti jam pavestą darbą nepriekaištingai. 
Downloads
Download data is not yet available.
References
Bagge, J., Harbaugh, T., Tabora, I., Aponte, M., Hakobyan, A., Johnson, D. (2021). Dental Hygienists Interprofessional Education and Collaboration Experiences: A Survey of Current Behaviors and Attitudes. American Dental Hygienists Association. Prieiga internetu: https://cdeworld.com/courses/22336-dental-hygienists-interprofessional-education-and-collaboration-experiences-a-survey-of-current-behaviors-and-attitudes.
Bleifertienė, R. (2017). Žmogiškųjų išteklių valdymas sveikatos priežiūros sistemoje: komandinis darbas odontologijos sektoriuje. Magistrinis darbas. 36
Howey, M. L., Yoon, M. N. (2022). Insights in Interprofessional Education: Dental Hygiene Students Suggestions for Collaboration. Canadian Journal of Dental Hygiene. Vol. 56, 9. Prieiga internetu: https://www.ncbi.nlm.nih.gov/pmc/articles/PMC8937569/.
Imafuku, R., Nagatani, Y., Yamadaa, S. (2022). Complexities of Interprofessional Indetify Formation in Dental Hygienists: an Exploratory Case Study. BMS Medical Education. Straipsnio Nr. 8. Prieiga internetu: https://www.ncbi.nlm.nih.gov/pmc/articles/PMC8721996/.
Istomina, N., Šakienė, L., Bagdonas, R., Baikaitė, I. (2013). Komandinio darbo operacinėje efektyvumo vertinimas operacinės komandos narių požiūriu. Sveikatos mokslai. Tomas. 23, 155. Prieiga internetu: https://sm-hs.eu/wp-content/uploads/2019/02/440-1552-1-PB.pdf.
Kersbergen, M., Creugers, N., Hollaar, V., Laurant M. (2020). Perception of Interprofessional Collaboration in Education of Dentists and Dental Hygienists and the Impact on Dental Practice in the Netherlands: A Qualitative Study. European Journal of Dental Education. Vol. 24, 145. Prieiga internetu: https://www.ncbi.nlm.nih.gov/pmc/articles/PMC7006819/.
Luebbers, J., Gurenlian, J., Freudenthal, J. (2019). Physicians Perceptions of the Role of the Dental Hygienist in Interprofessional Collaboration: a Plito Study. Journal of the Interprofessional Care. 132. Prieiga internetu: https://www.tandfonline.com/doi/full/10.1080/13561820.2020.1711715.
Marmienė, L., Kalėdienė, R., Kaselienė, S., Vladičkienė, S. (2015). Gydytojų ir slaugytojų požiūris į komandinį darbą lietuvos bendrojo pobūdžio ligoninėse. Visuomenės sveikata. Vol. 69, 53. Prieiga internetu: https://www.hi.lt/uploads/pdf/visuomenes%20sveikata/2015.2(69)/VS%202015%202(69)%20ORIG%20Komandinis%20darbas.pdf.
Rajadurai, S. (2021). Interprofessional Clinical Education in Dentistry. College of Genreal Dentistry. 10, 8-9. Prieiga internetu: https://journals.sagepub.com/doi/full/10.1177/2050168420980989?rfr_dat=cr_pub++0pubmed&url_ver=Z39.88-003&rfr_id=ori%3Arid%3Acrossref.org.
Rosenas, M. A., DiazGranados, D., Dietzas A. S., Benishek, L. E., Thompsonas, D., Pronovostas, P.J., Weaver, S. J. (2018). Teamwork in Healthcare: Key Discoveries Enabling Safer, High-quality Care. American Psychologist. Vol. 73, 433. Prieiga internetu: https://www.ncbi.nlm.nih.gov/pmc/articles/PMC6361117/.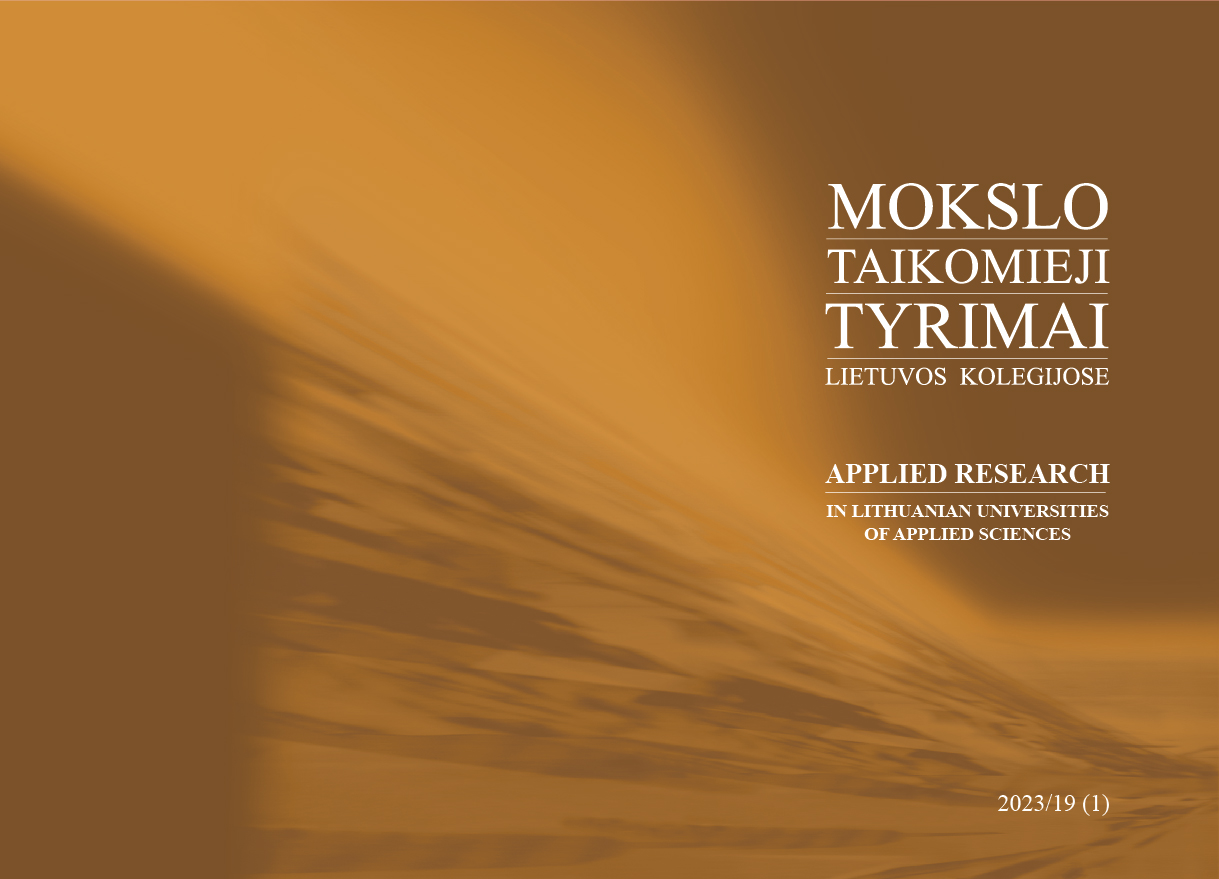 How to Cite
Daugėlienė, E., & Beinorytė, D. (2023). Burnos priežiūros specialistų komandinis darbas. Mokslo Taikomieji Tyrimai Lietuvos Kolegijose, 1(19), 19-26. https://doi.org/10.59476/mtt.v1i19.583
Section
Medicinos ir sveikatos mokslų tyrimai
Copyright (c) 2023 MOKSLO TAIKOMIEJI TYRIMAI LIETUVOS KOLEGIJOSE
This work is licensed under a Creative Commons Attribution 4.0 International License.