From micro culture of learning to regional needs: development of international social entrepreneurship course
Heidi Myyryläinen

LAB University of Applied Sciences

Wilfred Ledoux Tchasse Simo

Kauno kolegija Higher Education Institution
Keywords:
social entrepreneurship education, grounded learning, higher education, place-based pedagogy
Abstract
Social entrepreneurship education has grown an interest in the field of higher education (Howorth, Smith, and Parkinson, 2012; Mueller, Brahm, and Neck, 2015). Entrepreneurship education on social enterprises includes the same dilemmas as entrepreneurship education in general, but it also entails definitional choices on how social enterprises and social entrepreneurship are viewed. Entrepreneurship educators advocate experiential learning, and the course described here builds on experiential elements. 
This paper describes an aligned social entrepreneurship course organised by five higher education institutions. The course builds social entrepreneurship learning experience on three main dimensions: reflexive learning with international peer learners, using theoretical perspectives of social enterprises; social entrepreneurship and business models as a source for constructing new ideas, and grounding learning to a regional context by studying in a region and interacting with a locally rooted social entrepreneur.
Downloads
Download data is not yet available.
References
Addae, A. E. & Ellenwood, C. (2022). Integrating Social Entrepreneurship Literature Through Teaching. Entrepreneurship Education and Pedagogy, 5(2), 225–244.
Angelo, T & Cross, K. P. (1993). Classroom assessment techniques: A handbook for college teachers. Jossey-Bass.
Bacigalupo, M., Kampylis, P., Punie, Y. & Van den Brande, G. (2016, n.d). EntreComp: The Entrepreneurship Competence Framework. JRC Publications Repository. https://ec.europa.eu/jrc/entrecomp
Bacq, S. & Janssen, F. 2011. The multiple faces of social entrepreneurship: A review of definitional issues based on geographical and thematic criteria. Entrepreneurship and regional development, 23(5-6), 373–403.
Berezan, Krishen, A. S., & Garcera, S. (2022). Back to the Basics: Handwritten Journaling, Student Engagement, and Bloom's Learning Outcomes. Journal of Marketing Education, 27347532210755–. https://doi.org/10.1177/02734753221075557
Bloom, R.S. (1956). Taxonomy of Educational Objectives, Handbook I: The Cognitive Domain. David McKay Company.
Boyd EM, Fales AW. 1983. Reflective learning: key to learning from experience. Journal of Humanistic Psychology, 23(2): 99–117.
Defourny, J. & Nyssens, M. (2012, March 12). The EMES Approach of Social Enterprise in a Comparative Perspective. EMES European Research Network. Available at http://hdl.handle.net/2078/114773
Defourny, J. Nyssens, M. (2008). Social Enterprise in Europe: Recent Trends and Developments. Social Enterprise Journal, 4(3), 202–28. https://doi.org/10.1108/17508610810922703
Doherty, B., Foster, G., Mason, C., Meehan, J., Meehan, K., Rotheroe, N., & Royce, M. (2009). Management for social enterprise. SAGE Publications, Limited.
Elkington, J., Emerson, J. & Below, S. (2006). The Value Palette: A Tool for Full Spectrum Strategy. California management review, 48(2), 6–28. https://doi.org/10.2307/41166336
European Commission. (2020 January n.d.). Social enterprises and their ecosystems in Europe. Comparative synthesis report. Employment, Social Affairs & Inclusion. https://europa.eu/!Qq64ny
Fayolle, A. (2013). Personal views on the future of entrepreneurship education. Entrepreneurship and regional development, 25(7-8), 692–701.
Gaggiotti, Jarvis, C., & Richards, J. (2020). The Texture of Entrepreneurship Programs: Revisiting Experiential Entrepreneurship Education Through the Lens of the Liminal–Liminoid Continuum. Entrepreneurship Education and Pedagogy, 3(3), 236–264. https://doi.org/10.1177/2515127419890341.
Gardner, H. (2004). Changing minds: The art and science of changing our own and other people's minds. Boston: Harvard Business School Press.
Gherardi, Nicolini, D., & Odella, F. (1998). Toward a Social Understanding of How People Learn in Organisations: The Notion of Situated Curriculum. Management Learning, 29(3), 273–297. https://doi.org/10.1177/1350507698293002
Gibb, A. (2002). Creating Conducive Environments for Learning and Entrepreneurship: Living with, Dealing with, Creating and Enjoying Uncertainty and Complexity. Industry & Higher Education, 16(3), 135–48. https://doi.org/10.5367/000000002101296234
Hay, A. Peltier, J. W. Drago, W. A. (2004). Reflective learning and online management education: a comparison of traditional and online MBA students. Strategic change, 13(4), 169–182.
Hermelin, B. & Rusten, G. (2018) A place-based approach to social entrepreneurship for social integration – Cases from Norway and Sweden. Local economy, 33(4), 367–383.
Higgins, D. Smith, K. Mirza, M. (2013). Entrepreneurial Education: Reflexive Approaches to Entrepreneurial Learning in Practice. The Journal of Entrepreneurship, 22(2), 135–160.
Howorth, C. Smith, S. M. Parkinson, C. (2012). Social Learning and Social Entrepreneurship Education. Academy of Management learning & education, 11(3), 371–389.
Jackson, B., Nicoll, M. Roy, M.J. (2018). The distinctive challenges and opportunities for creating leadership within social enterprises. Social Enterprise Journal, 14(1), 71-91.
Larty, J. (2021) Towards a framework for integrating place-based approaches in entrepreneurship education. Industry & higher education, 35(4), 312–324.
Liuolienė, A. Metiūnienė, R. (2009). Students' Learning Through Reflective Journaling. Coactivity: Philology, Educology, 17(4), 32-37.
Mair, J. & Martí, I. (2006). Social entrepreneurship research: A source of explanation, prediction, and delight. Journal of world business, 41(1), 36–44.
McMullen, Brownell, K. M., & Adams, J. (2021). What Makes an Entrepreneurship Study Entrepreneurial? Toward A Unified Theory of Entrepreneurial Agency. Entrepreneurship Theory and Practice, 45(5), 1197–1238. https://doi.org/10.1177/1042258720922460
Mueller, S. Brahm, T. Neck, H. (2015). Service Learning in Social Entrepreneurship Education: Why Students Want to Become Social Entrepreneurs and How to Address Their Motives. Journal of enterprising culture, 23(3), 357–380.
Myyryläinen, H. (2022, January 7) Educating Social Entrepreneurship Competences in the Higher Education. The Publication Series of LAB University of Applied Sciences, part 44. https://www.theseus.fi/bitstream/handle/10024/744127/LAB_2022_44.pdf?sequence=2&isAllowed=y
Nicholls, A. (2008). Social entrepreneurship: New models of sustainable social change. Oxford: Oxford University Press.
Pache, A.-C. & Chowdhury, I. (2012). Social Entrepreneurs as Institutionally Embedded Entrepreneurs:
Toward a New Model of Social Entrepreneurship Education. Academy of Management learning & education, 11(3), 494–510.
Polonyová, & Pongrácz, E. (2022). Social entrepreneurship education providers – Slovak case. Social Enterprise Journal, 18(3), 434–450. https://doi.org/10.1108/SEJ-07-2021-0057
Rae. (2010). Universities and enterprise education: Responding to the challenges of the new era. Journal of Small Business and Enterprise Development, 17(4), 591–606. https://doi.org/10.1108/14626001011088741
Reid. (2019). Intercultural Learning and Place-Based Pedagogy: Is There a Connection?: Intercultural Learning and Place-Based Pedagogy. New Directions for Teaching and Learning, 0(157), 77–90. https://doi.org/10.1002/tl.20331
Richlin, L. (2006). Blueprint for Learning: Constructing College Courses to Facilitate, Assess, and Document Learning. Stylus Publishing.
Saebi, T. Foss, N. J. Linder, S. (2019). Social Entrepreneurship Research: Past Achievements and Future Promises. Journal of Management, 45(1):70–95. 70–95. https://doi.org/10.1177/0149206318793196
Smith, B. R. Barr, T, F. Barbosa, S.D. Kickul, J. R. (2008). Social Entrepreneurship: A Grounded Learning Approach to Social Value Creation. Journal of Enterprising Culture, 16(4), 339–362. https://doi.org/10.1142/S0218495808000235
Støren, A. L. (2014). Entrepreneurship in higher education: Impacts on graduates' entrepreneurial intentions, activity and learning outcome. Education & Training, 56(8/9), 795–813
Thompson, J. & Doherty, B. (2006) The diverse world of social enterprise: A collection of social enterprise stories. International Journal of social economics, 33(5-6), 361–375.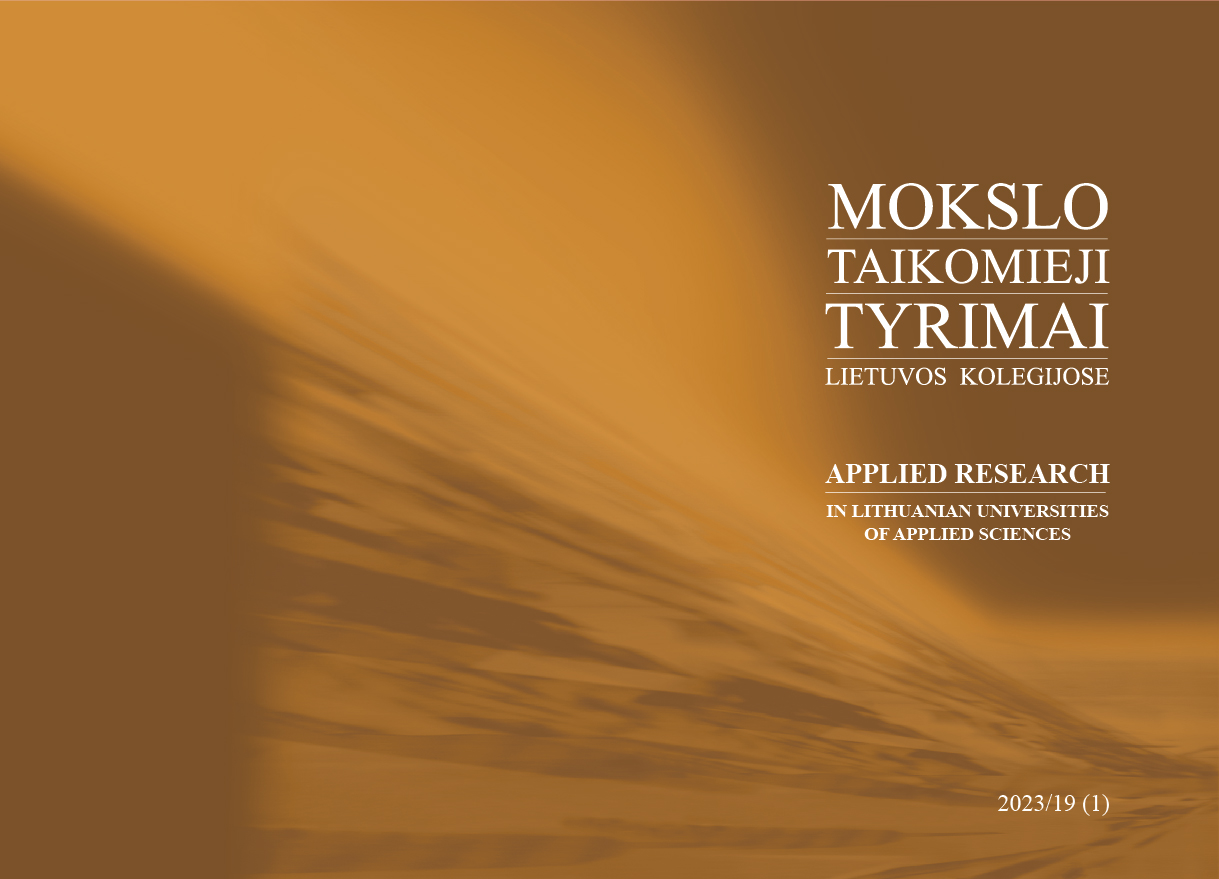 How to Cite
Myyryläinen, H., & Ledoux Tchasse Simo, W. (2023). From micro culture of learning to regional needs: development of international social entrepreneurship course. Mokslo Taikomieji Tyrimai Lietuvos Kolegijose, 1(19), 148-158. https://doi.org/10.59476/mtt.v1i19.595
Section
Socialinių mokslų tyrimai
Copyright (c) 2023 MOKSLO TAIKOMIEJI TYRIMAI LIETUVOS KOLEGIJOSE
This work is licensed under a Creative Commons Attribution 4.0 International License.