Darbuotojų asmeninių vertybių reikšmė pasitenkinimui darbu
Andrius Šmitas

Kauno kolegija
Keywords:
vertybės, asmeninės vertybės, darbuotojų gerovė, pasitenkinimas darbu, žmogiškųjų išteklių vadyba
Abstract
Pasitenkinimas darbu – tai, galima sakyti, asmens laimės jausmo profesinėje veikloje laipsnis vertinant kognityviniu aspektu. Pastebima tendencija, kad dažniausiai pasitenkinimą darbu prognozuojantys veiksniai vadyboje moksle yra socialiniai – t. y. tokie, kurie gali būti pakeičiami – pvz., darbo užmokestis, galimybės konsultuotis su ekspertais ir taip toliau, nors sutinkama, kad pasitenkinimas darbu yra priklausomas ne vien nuo socialinių veiksnių, bet ir asmeninių veiksnių. Taip pat pastebima tendencija, kad organizacijos, paprastai, apibrėžia savo vertybes, kurios organizacijoje pasako, kaip mes sieksime tam tikrų tikslų (įgyvendinsime misiją), bet greta organizacinių vertybių visada egzistuoja ir asmeninės vertybės. Idealiu atveju jos sutampa su organizacijos vertybėmis, bet idealūs atvejai yra reti, taip pat praktikoje asmeninės vertybės rečiau sulaukia dėmesio, nors asmeninės vertybių ir organizacinių vertybių skirtumai skatina konfliktus, didesnę emocinę įtampą. Tad šiame straipsnyje yra analizuojama viena iš asmeninių savybių – asmeninės vertybės ir jų reikšmė pasitenkinimui darbu reprezentatyvioje dirbančių Lietuvos gyventojų imtyje. 
Duomenų analizės rezultatai parodė, kad aukštesnį pasitenkinimą darbu prognozavo aukštesnis išsilavinimas, labiau išreikšti saugumo, orientacijos į save / savirealizacijos ir orientacijos į pasiekimą vertybiniai tipai, o žemesnį pasitenkinimą darbu prognozavo labiau išreikštas galios / valdžios vertybinis tipas. Straipsnyje aptariama kas šiems vertybiniams tipams yra svarbu jų profesiniame ir asmeniniame gyvenime, aptariama šių vertybinių tipų reikšmė profesinėje veikloje.
Downloads
Download data is not yet available.
References
Abreu von Borell, D., Ramos Camfield, C. E., ir Gouveia Rodrigues, R. (2018). An Analysis of The Relationship Between Personal Values and Satisfaction With Work. Brazilian Journal of Management / Revista de Administração da UFSM, 11.
Allport, G. W., ir Vernon, P. E. (1931). A Study of Values. Oxford, England: Houghton Mifflin.
AL‐Abrrow, H., Thajil, K. M., Abdullah, H. O., ir Abbas, S. (2020). The Dark Triad and Organizational Citizenship Behavior in Health Care: The Moderating Role of Positive Emotions. Global Business and Organizational Excellence, 39(5), 6–17.
Bhardwaj, A., Mishra, S., ir Jain, T. K. (2021). An Analysis to Understanding the Job Satisfaction of Employees in Banking Industry. Materials Today: Proceedings, 37, 170–174.
Bobowik, M., Basabe, N., Páez, D., Jiménez, A., ir Bilbao, M. Á. (2011). Personal Values and Well-being among Europeans, Spanish Natives and Immigrants to Spain: does the Culture Matter?. Journal of Happiness Studies, 12, 401–419.
Cantril, H., ir Allport, G. W. (1933). Recent Applications of the Study of Values. The Journal of Abnormal and Social Psychology, 28(3), 259–273. doi:10.1037/h0072616.
European Social Survey European Research Infrastructure (ESS ERIC). (2022). ESS10 Data Documentation. Sikt - Norwegian Agency for Shared Services in Education and Research. https://doi.org/10.21338/NSD-ESS10-2020.
European Social Survey European Research Infrastructure (ESS ERIC). (2022). ESS10 - integrated file, edition 2.1 [Data set]. Sikt - Norwegian Agency for Shared Services in Education and Research. https://doi.org/10.18712/ess10.
George, J. ir Jones, G. (2011). Understanding and Managing Organisational Behaviour. (6th ed.) Pearson.
Giauque, D., Resenterra, F., ir Siggen, M. (2014). Antecedents of Job Satisfaction, Organizational Commitment and Stress in a Public Hospital: a PE Fit Perspective. Public Organization Review, 14, 201–228.
Greenberg, J. ir Baron, R. A. (2008). Behavior in Organizations (Ninth Edition). Upper Saddle River: New Jersey, Pearson Prentice Hall.
Hofstede, G. (1984). Culture's Consequences: International Differences in Work-Related Values (Vol. 5): SAGE.
Inglehart, R. (2015). The Silent Revolution: Changing Values and Political Styles Among Western Publics: Princeton University Press.
Young, R., ir West, P. (2010). Do'Good Values' Lead to'Good'Health-behaviours? Longitudinal Associations Between Young People's Values and Later Substance-use. BMC Public Health, 10(1), 165.
Judge, T. A., Thoresen, C. J., Bono, J. E., ir Patton, G. K. (2001). The Job Satisfaction – Job Performance Relationship: A Qualitative and Quantitative Review. Psychological Bulletin, 127(3), 376.
Kluckhohn, C. (1951). Values and Value-Orientations in the Theory of Action: An Exploration in Definition and Classification. In T. P. E. Shils (Ed.), Toward a General Theory of Acrion (pp. 388–433): Harvard University Press.
Roccas, S., Sagiv, L., Oppenheim, S., Elster, A., ir Gal, A. (2014). Integrating Content and Structure Aspects of the Self: Traits, Values, and Self‐improvement. Journal of Personality, 82(2), 144–157.
Rokeach, M. (1973). The Nature of Human Values: Free press.
Sagiv, L., Roccas, S., Cieciuch, J., ir Schwartz, S. H. (2017). Personal Values in Human Life. Nature Human Behaviour, 1(9), 630.
Schein, E. H. (2015). Organizational Psychology Then and Now: Some Observations. Annu. Rev. Organ. Psychol. Organ. Behav., 2(1), 1–19.
Schwartz, S. H. (1992). Universals in the Content and Structure of Values: Theoretical Advances and Empirical Tests in 20 Countries. In Advances in Experimental Social Psychology (Vol. 25, pp. 1–65): Elsevier.
Schwartz, S. H. (2012). An Overview of the Schwartz Theory of Basic Values. Online Readings in Psychology and Culture, 2(1), 11.
Wangler, S., Streffing, J., Simon, A., Meyer, G., ir Ayerle, G. M. (2022). Measuring Job Satisfaction of Midwives: A Scoping Review. Plos One, 17(10), e0275327.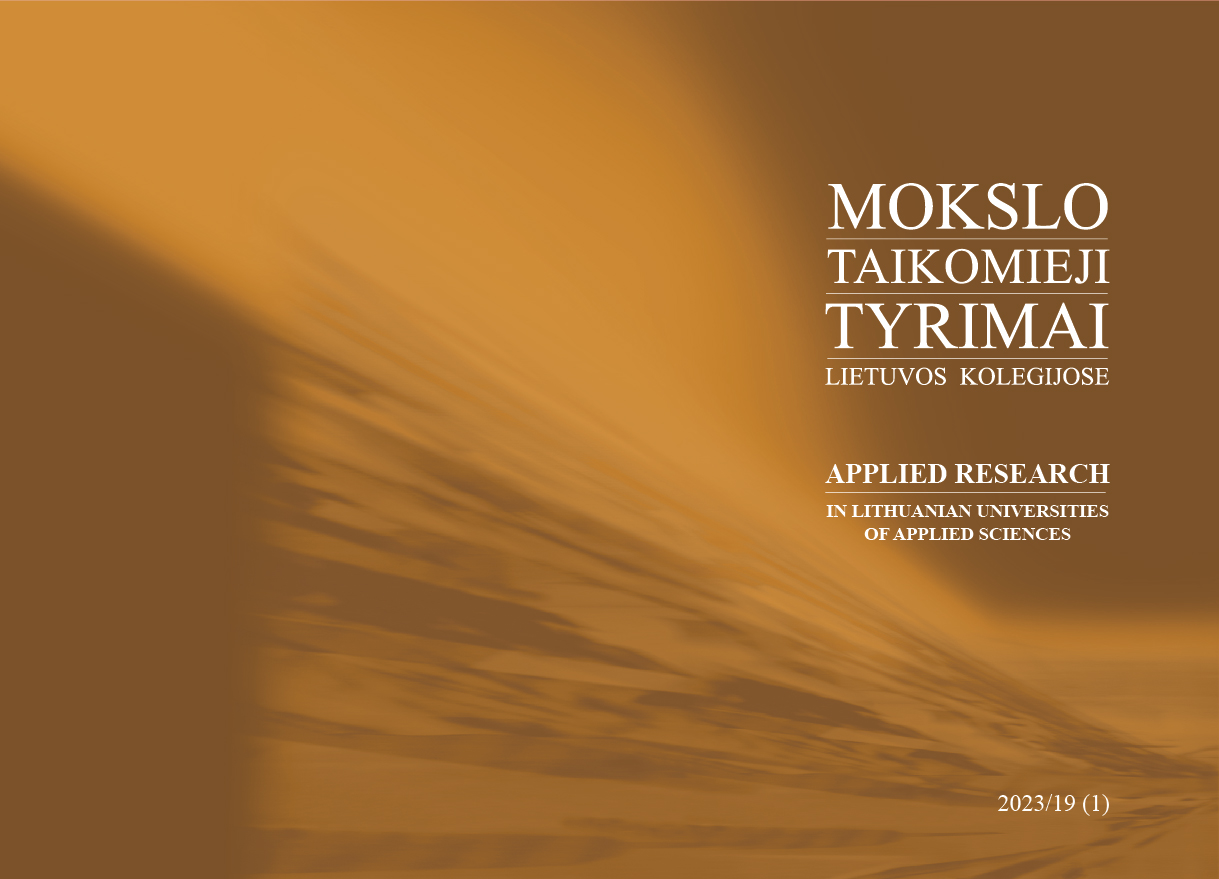 How to Cite
Šmitas, A. (2023). Darbuotojų asmeninių vertybių reikšmė pasitenkinimui darbu. Mokslo Taikomieji Tyrimai Lietuvos Kolegijose, 1(19), 198-203. https://doi.org/10.59476/mtt.v1i19.580
Section
Socialinių mokslų tyrimai
Copyright (c) 2023 MOKSLO TAIKOMIEJI TYRIMAI LIETUVOS KOLEGIJOSE
This work is licensed under a Creative Commons Attribution 4.0 International License.